1871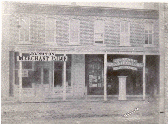 The "Olean Library Association" is established on March 25, 1871 by a small group of public-spirited citizens. The first meeting is held in Miss Lyon's school house on Laurens Street.In May 1871, the Library settles in the rear of John G. Pelton's tailor shop located on the west side of North Union Street, midway between Laurens and State streets. It is open only 1 day per week, Saturday from 1-9 PM. Annual dues are $2.00 for gentlemen and $1.00 for ladies. 697 books form the collection.
1878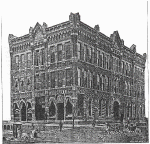 On September 30, 1878 under the supervision of Charles Gillingham the Library moves to a new home in a room rented from P.J. Hastings in what was known as the Berg (or Birge) after Norman Birge, a harness maker who owned the block.
Later, it moves to quarters on the second floor of the Exchange Bank building, and then to 102 Hamilton Street where it remains until 1889.
On June 12, 1888, the Library is named in honor of George B. Forman, who donated the property and building.
1889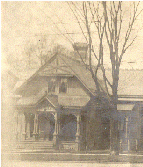 The Library moves into its new home on Forman property on April 2, 1889.
The charter, granted by the Board of Regents of New York State on December 13, 1906 names the institution "The Olean Public Library" and it becomes a free library.
On January 14, 1907 the library opens with Genevieve C. Hanna as librarian. She receives $50 per month, but the following year is reduced to $40.00 per month.
Maud Brooks becomes librarian in October 1908.
1909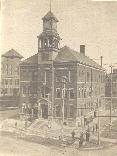 In April 1909 the Library relocates to the second floor of City Hall while the Carnegie building is being built on the Forman property.
The cornerstone for Carnegie building is laid on July 3, 1909.
1910
The Carnegie building is opened May 23, 1910 and a period of growth in the size and scope of the collection and patronage begins almost immediately.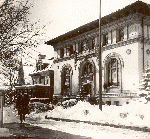 Maud Brooks is director of the Library until she retires in 1940. She becomes historian of the City of Olean in 1941 and later establishes with Librarian James Taylor Dunn a Local History Room on the second floor for preservation and display of local history.
1973

A new site is secured for the Library and on September 21, 1973, it opens at 134 North Second Street in a former Loblaws Supermarket.
The modern facility continues to meet the changing informational needs of the community and adds an automated card catalog in 1993 and community Internet access in 1999.
The present collection consists of 124,112 books, multimedia titles and periodical subscriptions and 12,171 eBooks and eAudiobooks.