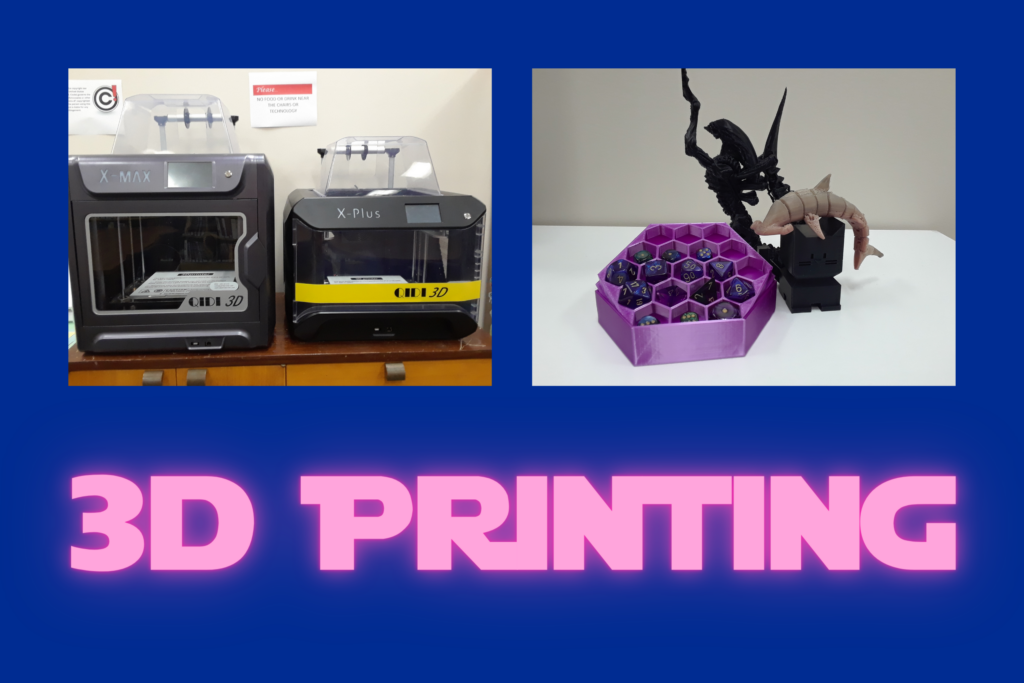 What is 3D Printing
3D Printing is the process of creating a physical object from a digital drawing.  The Qidi 3D printers at Olean Public Library operate by building up thin layers of a material called PLA filament.  As these layers harden, a 3 dimensional representation of the digital drawing is produced.  Based on this principle, anything that can be digitally designed could be created as a physical structure.  Applications range from low volume prototypes of new products, to fidget toys, or art pieces.  
If you have a design you would like to print please read the policies and procedures section below and feel free to print and submit the Olean Public Library 3D printing form at the circulation desk.  
Just looking for a model to print?  The following websites have .stl files for free or purchase:
Interested in designing your own models to print?  The following are some of the top picks in FREE design software.  Most of these have tiered subscriptions for more advanced features that require payment.
Policies
Only designated library staff will have hands on access to the 3D Printer.  
Any completed prints left at the circulation desk for longer than 30 days become the property of Olean Public Library.
Olean Public Library reserves the right to refuse ANY 3D Print request.
The Library's 3D Printers may be used only for lawful purposes. The public will not be permitted to use the Library's 3D Printers to create material that is:
Prohibited by local, state, or federal law
Unsafe, harmful, dangerous or poses an immediate threat to the well-being of others. (such use may violate the terms of use of the manufacturer.)
Obscene or otherwise inappropriate for the Library Environment
In violation of another's intellectual property rights. For example, the printers will not be used to reproduce material that is subject to copyright, patent, or trademark protection.
         I.       
Procedures
Please check this list before submitting your file for printing:
Make sure your library account is in good standing
the file should be in .stl format
item does not exceed 6″ in any dimension
Print time does not exceed 5 hours
Only one print item submitted per week
Default print color is BLACK. Other colors MAY be available by checking with the Technology Engagement Librarian
Designs created at home must be downloaded onto a USB drive and may not exceed 25MB
Allow 7 business days for completion
Print and submit the Olean Public Library 3D printing form at the circulation desk.  
Failed prints happen for various reasons. We will stop the print job if we believe it is not going to be a successful print.
Patrons are responsible for removing their own rafts and supports.
Helpful tools
Process for converting an image into a 3D printable .stl file from engineerdog.com HERE
3D Printing at Olean Public Library would not be possible without the generous donation of the Qidi-Max and Qidi-Plus 3D Printers made by Boundless Connections and the continued support of the Friends of the Olean Public Library.