Gallery Exhibits
The Olean Public Library Gallery has provided an exhibition venue for New York State artists since 1974, giving artists exposure and exhibiting experience and providing Greater Olean Area residents and visitors the opportunity to enjoy the work of contemporary visual artists.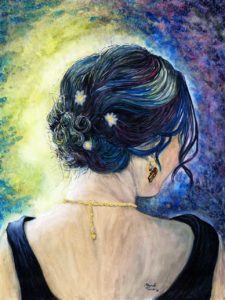 Miranda Turner
May 30th – July 13th
Opening Reception May 30th, 2018 
Miranda Turner was born in the beautiful island of Trinidad. In High School she studied art but put it on the backburner when she moved to the United States in order to support her family.
After getting married, Miranda's husband discovered some of her artwork and encouraged her to re-ignite her artistic spark by taking a beginner water color class.
Watercolor was one medium that she had never worked with so she was intrigued to attempt something new and dive back into one of her passions.
After her very first basic class she fell completely in love with the medium and it became part of her life. Miranda proceeded to teach herself and develop her talent through You Tube videos, books and her own creative design.
She believes that art is an expression of life and she uses color to infuse her works with a vibrancy that embraces that very essence. Her desire is to inspire anyone who is looking at her work to see beyond the ordinary. She also loves doing custom art including portraiture, animals and buildings to name a few.
She feels extremely blessed to be able to capture a precious memory, to provoke anyone to think beyond just what they see and to bring joy to someone through her art.
World War I Exhibit Planned
November 11, 2018 will mark the 100th anniversary of the end of the First World War. Earl McElfresh, Library Board Trustee, will be curating a special exhibit to commemorate this anniversary.
"A photograph of my grandfather, Charles McDermott, in his World War I army uniform inspired me to ask the library to sponsor such an exhibit," said McElfresh.  "The United States entry into World War I marked our nation's first major foray in international affairs, and our contribution to the outcome of the war brought American to the forefront of the nations of the world."
If you would like to contribute to this exhibit, which will take place during November 2018, please contact Jennifer Stickles, Gallery Exhibits Coordinator, at 716-372-0200 or jstickles@oleanlibrary.org