Olean City Directory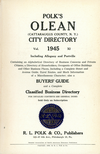 Online*
*This project was funded through a member project grant from the Regional Bibliographic Data Bases and Interlibrary Resources Sharing Program (RBDB) awarded to the Western New York Library Resources Council by the New York State Education Department.

Sandpumpings—part literary, part history magazine published by the students of Olean High School—featured interviews and articles of local historical interest and literary pieces. This digital collection features eleven issues dated 1976-1983.The Sandpumpings series is a valuable local history resource that receives many requests for reprints. Digitizing and providing online access to Sandpumpings as part of New York Heritage Digital Collections allows patrons from all over the world to freely access this information.

Click here to view Sandpumpings at New York Heritage Digital Collections
Cemeteries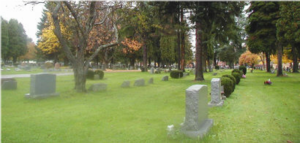 Photo of Allegany Cemetery by Mary E. Bryant.
Obituary Database – Currently Unavailable
Follow the link below for our searchable index of obituary listings in Olean newspapers. The index contains names from the Olean Times Herald for the 1980s and 1990s. Not all names have yet been recorded.
The index will help you find out if a listing exists and, if so, simplify a request for a copy of an obituary. Please read our Research Policy and submit payment along with your request.
This database contains only a small sampling of the thousands of obituaries listed in local newspapers. Submit a request for a listing not found in the database directly to the Reference Department.
Go to the Obituary Index

Ancestry® Library Edition, powered by Ancestry.com, delivers billions of records in census data, vital records, directories, photos, and more.Ancestry Library Edition brings the world's most popular consumer online genealogy resource to your library. It's an unprecedented online collection of individuals from North America, the United Kingdom, Europe, Australia, and more.Answers await everyone—whether professional or hobbyist, expert or novice, genealogist or historian—inside the more than 7,000 available databases. Here, you can unlock the story of you with sources like censuses, vital records, immigration records, family histories, military records, court and legal documents, directories, photos, maps, and more.Note: this service is available only on computers inside the library.
Disclaimer
Inclusion of a link does not constitute any endorsement by the Olean Public Library. We are not responsible for information beyond our own site and cannot guarantee the accuracy of information on linked sites.